Fun Facts About Birthstones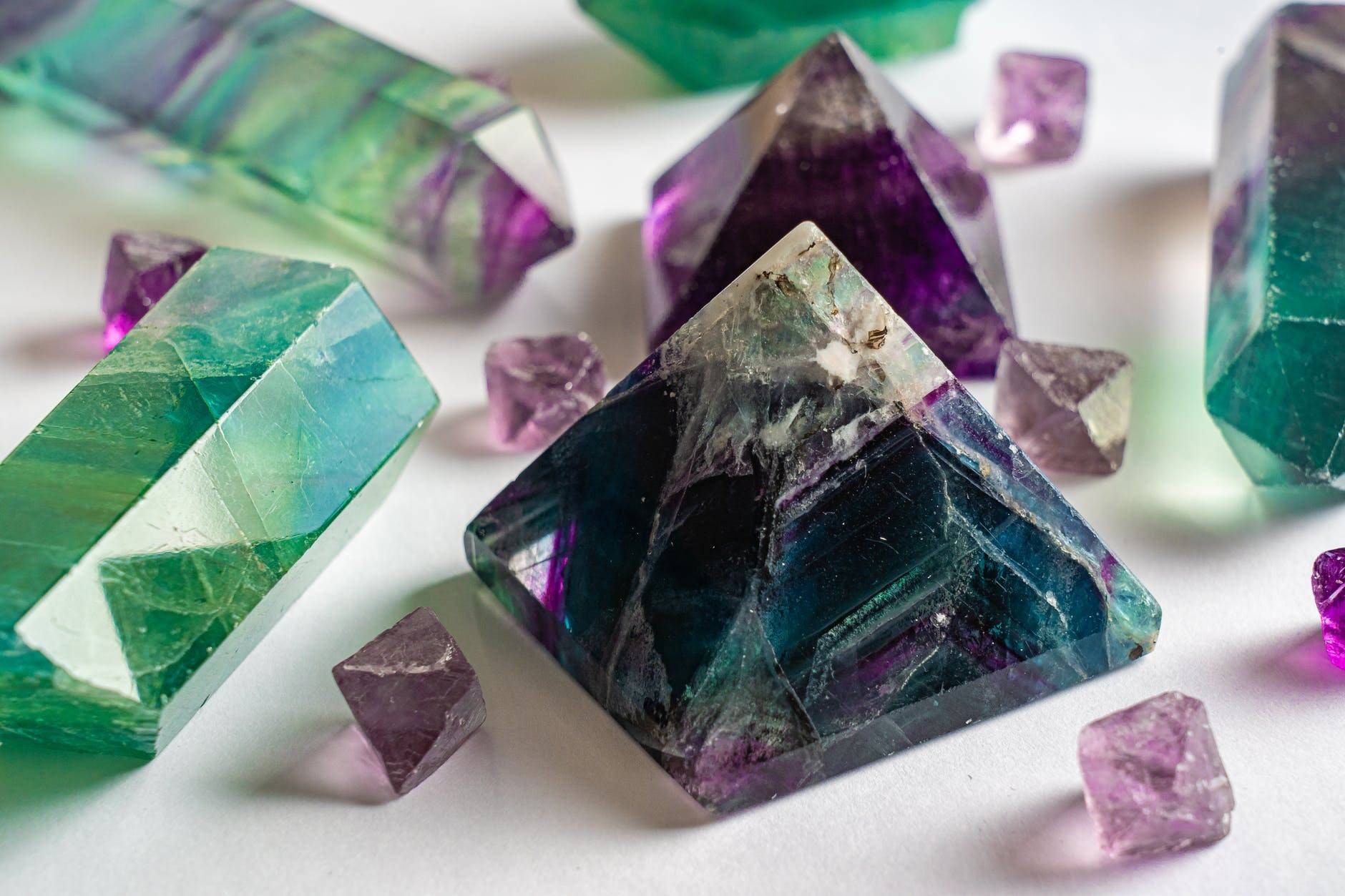 ---
---
January's Birthstone Garnet
---
Garnet is a form of andradite.
The name garnet originated from the Latin word granatum, which means pomegranate.
Garnet crystal are found in Asia and America, as well as Europe.
Garnet gemstones are found in lava bombs, river rocks and chromium garnet deposits in India and Burma.
Garnet are usually found in sizes up to 1mm in diameter.
The rarest garnet gems include tsavorite garnet, rhodolite garnet and demantoid garnet.
Some garnet stones are colorless, but most have a red color.
Garnet gemstones symbolize vitality, health and prosperity.
---
January's Birthstone Rose Quartz
---
Rose quartz gems a type of quartz, which is the most abundant mineral on the planet.
Quartz is the hardest of common minerals. Only rare minerals, such as diamonds, are harder than quartz.
Natural rose quartz stones are opaque to translucent with a pink to rose-red hue.
The color in rose quartz crystals is the result of several impurities including titanium, manganese and iron.
Although rose quartz is usually too cloudy for use as a cut gemstone, a few exceptional pieces are found with enough clarity and color to make fine gems. Most rose quartz gemstones become cabochons where the clarity is not as important as the color.
Rose quartz cryst has many names. It's also known as hyaline quartz, which comes from the Greek word hyalos meaning glass.
Rose quartz stones are found in countries such as the USA, Madagascar, Namibia, Japan, India, South Africa and Brazil. Although, most of the world's supply of rose quartz gemstones come from Brazil.
Rose quartz is rarely found as a crystal and is far more common in massive form.
Rose quartz gem embody a gentle and melodious energy, assisting the wearer in becoming really loving and living life from the heart.
---
February's Birthstone Amethyst
---
The word amethyst comes from the ancient Greek word "amethystos," meaning "not drunk."
Amethyst is a violet variety of quartz often used in jewelry.
Amethyst gem range from a light, slightly pinkish violet to a deep grape purple.
Amethyst is the birthstone for February and Pisces are born between February 19th - March 20th. The corresponding zodiac signs in Astrology are Aries, Taurus, Gemini, Cancer, Leo, Virgo and Libra. Amethysts symbolize love and balance while Pisces represent self-sacrifice a forgiveness.
Amethyst is widely distributed as a mineral but fine, clear specimens that are suitable for jewellry are rather rare. It is found in Brazil, Uruguay, North Carolina in the United States and Chile.
Amethyst is the official gemstone of the province of Ontario.
Occasionally, a rare gift from nature occurs when the presence of amethyst and citrine occur in the same quartz gemstone, resulting in an ametrine.
The amethyst gemstone is a symbol of spirituality, peace and tranquility.
---
March's Birthstone Aquamarine
---
The birthstone for the month of March, aquamarine is a form of beryl gemstone that is known to derive its color from the mineral chromium.
The name aquamarine comes from Latin and translates to "foam of the sea."
It is the birthstone for the zodiac signs of Capricorn and Pisces.
Gem quality aquamarine is usually pale blue, but dark blue varieties also occur. It can also be found in shades of green and red-brown.
Aquamarine is a color-changing gem because of its complex crystal structure. When heated, it can show an orange-to-brown color change.
Aquamarine is a precious stone that is very hard to find and only yield 8 tons of aquamarine for every 100 tons of rock, which makes it extremely rare and valuable.
Worldwide aquamarine stone production is worth around $250 million.
Some of the best aquamarine gems are found on Russia's coast of the Pacific Ocean.
On January 1st, 1852 the largest aquamarine stone ever found was discovered in a Brazilian mine. It weighed in at 563 carats and today is found on display at the Smithsonian Institution National Museum of Natural History in Washington, D.C. The stone measures 37 mm x 29 mm x 18 mm.
Aquamarine jewelry helps those who wear it stay calm and feel happier.
---
April's Birthstone Diamond
---
The word diamond comes from the Greek adamas that means invincible.
Diamond stones consist of pure carbon and have been found in meteorites.
We all know that diamonds are a girl's best friend, but did you know they also make up 10% of the Earth's crust?
It takes over 2000 tons of coal to make one carat worth of diamond gemstones.
Most diamonds are not found in mines but rather eroded from other rocks.
Diamond gemstones the hardest substance in nature.
Diamond creation occurs naturally or they are occur when exposed to extreme pressure.
Diamond stones are the hardest substance known to man.
The most famous diamond in the world is the Hope Diamond. Originally weighing 759 carats upon discovery and now weighs 45 carats.
We all know that diamonds are a girl's best friend, but did you know they also make up 10% of the Earth's crust?
---
---
The word "emerald" comes from the Latin word "Smaragdus" meaning green gemstone.
Emerald gemstone is a variety of Beryl. It is a green colored, transparent (usually), and semitransparent precious stone.
Emeralds are a variety of the mineral beryl, colored green by trace amounts of chromium and sometimes vanadium.
Did you know that the emerald gemstones usually vary in color from green to bluish-green and rarely, yellowish-green?
The most emerald exist in Colombia, Zambia and Zimbabwe.
The highest-quality type of emerald is the Zambian, but only 10% of all emeralds mined are of top quality.
The list of famous emerald gemstones is almost endless; it includes Cleopatra's stunning gemstone jewelry collection worth $2 billion at today's prices, more than any other Egyptian queen. Columbus also brought this gem back to European society after his discovery of America in 1492.
The most expensive emeralds in the world are not from Africa, but actually come from the rich soil of Colombia. Because of the rich black soil and abundance of rain, Colombia is able to grow deep green precious stones that are also perfectly clear. This is unlike African emeralds which have more cloudy coloring.
The most expensive emeralds are Colombian emeralds. Tiffany and Company has claimed that Colombian emeralds are "the finest found anywhere in the world."
Wearing emerald jewelry has protective qualities including the alleviation of stress and anxiety.
---
---
You probably already know that pearl is a birthstone for June babies, but did you know that Pearl is the official Gemstone of Alabama? Or that it is also the official gemstone for the Philippines?
Pearl is a gemstone that was given its name from the Latin word 'perle' which means a small round object. The English word 'pearl' comes from the Old French word meaning, 'a foreign body found in oysters.'
The pearl is not actually a stone, but is actually made of calcium carbonate (on a microscopic level, each grain of "sand" making up the pearl coating consists of calcium carbonate and conchiolin. Conchiolin is a glycoprotein material).
Pearls are found in oysters, clams & mussels.
Did you know that a pearl oyster can produce up to 10,000 pearls in a single year?
Pearls are found in a variety of hues, ranging from white to black. Those colored by iron impurities are black pearls; when another mineral gives the color they're known as gray pearls. When they take on hues from other minerals, it's white. And those with no coloring at all? They are known as Akoya.
There are only two places in the world where black pearls are naturally formed: Sydney, Australia and the South Pacific Ocean. The latter is where the most available black pearls come from. The smaller black pearls that are found in freshwater lakes and rivers are not actually real pearls. They form because of layers of tiny mollusk shells being compacted on top of each other.
The world's most perfectly shaped pearl is known as the Pearl of Kuwait.
The Japanese refer to pearls as "moé-gi", meaning "Buddhist image".
Pearls were among the first gems cultivated by humans thousands of years ago in China as well as in ancient Rome.
Pink is the rarest color for the pearl
You can tell how old a pearl is by examining its mother-of-pearl.
---
---
The word ruby comes from the Latin 'rubeus' or red and comes from the Greek word 'rhos', meaning rose.
A ruby is a pink to blood-red colored gemstone, a variety of the mineral corundum (aluminium oxide). The red color comes from the presence of the element chromium. Its name comes from ruber, Latin for red. Other varieties of gem-quality corundum are sapphires.
The ruby gemstone's color varies between different shades of red, from inverted ruby to Padparadscha or pinky-orange-red ruby gemstone as well.
The ruby stone has a hardness of 9 on the Mohs scale, making it one of the harder naturally occurring gems in the world.
Rubies are found in Burma, Thailand, Tanzania and Vietnam, as well as in Montana and South Africa.
Ruby mines in the country of Burma (Myanmar) accounts for nearly 99% of the total production of ruby crystals.
Ruby is the most popular colored gemstone in the world but up to a few hundred years ago, it wasn't very popular at all. Gemologists thought its deep red color came from an impurity and some even called it " worthless opal ".
Ruby gems promote insight, wisdom, creativity and passion.
---
August's Birthstone Peridot
---
The word "peridot" comes from the French word "peritot" which means green. In the past, peridot referred to all gemstones with a green color, but today we know that there are many gemstones which are green and not all of those gemstones are peridots.
Green peridot is the birthstone for August, so it makes a special gift for anyone born during this month. In addition to being a type of gemstone, peridot is also a greenish-yellow variety of the mineral olivine. While both stones are the same color, peridot actually describes the gem's color.
First found in meteorites, peridot crystals are extremely rare on Earth where it typically forms in volcanic rocks.
Prices for peridot gemstones can range from under $100 per carat to several thousand dollars per carat depending on cut, color and size.
The deeper the green of the peridot stone, the more valuable it is.
If you're wondering where peridot crystal come from, there are only a few places in the world that they occur naturally. One of these locations is in Hawaii, which led to peridot gems being called "the Hawaiian birthstone" — as well as the official state gem.
Peridot gems are found all across the world in places such as Greenland, Arizona, Utah or even Afghanistan.
---
---
September's Birthstone Sapphire
---
Sapphire is a precious gemstone and one of the chemically pure varieties of corundum, an aluminum oxide mineral.
Sapphire is a gemstone and precious stone, the purest form of Corundum crystal. Its shimmer and rich tone have made it one of the most common gem for jewelry. In fact, 10% of mined gems are sapphires, which breaks down to about one million sapphires mined every year.
There are more than three million sapphire stones on Earth. In fact, as you may know, nearly all blue and most multicolored gemstones are sapphires. Sapphire gems come in different colors but are generally blue. They can be found in some other colors like yellow, orange, green, black, purple etc.
The origin of "Sapphire" derives from the Latin word "sapphirus" meaning to darken or to make dark.
Sapphire stones are found in enormous sizes but their value depends upon their color and clarity, as well as their cut.
Sapphire is the gemstone of choice for 7th and 8th wedding anniversaries because sapphires enhance love and increase long-lasting friendships or relationships.
Did you know that sapphire crystals form under an extreme pressure of about three times that of the earth's atmosphere? This makes them some of the strongest gems in existence.
Sapphire is the world's second-hardest gemstone and the most prestigious among them in terms of value per carat. It ranks a 9 on the Mohs Hardness Scale, just below diamond.
Did you know that a sapphire gems are transparent only when light rays pass through it, polarization takes place when the rays strike the surface of a gem?
---
November's Birthstone Citrine
---
Natural citrine is a transparent variety of quartz, the second most abundant mineral in the Earth.
Most citrine jewelry on the market is actually heat-treated amethyst or smokey quartz.
It was originally called "yellow topaz" because of its yellowish-orange hue. Its new name citrine derives its name from the word "citrin," meaning lemon in Old French. As one of the more rare forms of quartz, the citrine gemstone ranges in color from the palest yellow to a dark amber. Natural light yellow citrine is often also called lemon quartz.
The most valuable citrines are natural gemstones in very saturated colors, known in the trade as Madeira Citrine. The color of Madeira Citrine ranges from golden to golden-orange to reddish-brown to a brown hue.
Citrine is a stone's associated with the values of hope, strength, cheerfulness, youth, health and fidelity.
Citrine is primarily mined in Brazil. Small amounts of citrine stones are found in Russia, Colorado, Madagascar, Bolivia, Burma (Myanmar), Canada, Sri Lanka, Spain and U.S.
Citrine has a Mohs Scale Hardness of 7, meaning it is not easily scuffed and is durable enough to avoid scratching and chipping during everyday wear.
Citrine crystal is associated with two deities: the Greek goddess of harvest, Demeter, and the Egyptian goddess of war, Sekhmet.
The most valuable citrine stones are natural gems in very saturated colours, known in the trade as Madeira Citrine. The name derives a fortified Portuguese wine made in the Madeira Islands, and so the colour of such quartz ranges from golden to golden-orange to reddish-brown to brown hue.
The largest citrine gemstone ever discovered weighs in at 2258 carats and originates from Brazil. It is on disp at the Smithsonian Museum in Washington, DC. This citrine crysta is very large - especially when considering the size of gems used in jewellery, which are usually no more than 25 carats.
---
November's Birthstone Topaz
---
The topaz gemstone is the birthstone of November babies and is also the zodiac birthstone for Virgo (August 23 – September 22) and Leo (July 23 – August 22).
The November birthstone is also the stone of choice for 14th and 19th wedding anniversaries
The topaz gem gets its name from the Greek word "topazios" that means "to seek" or "to find".
Topaz is a gemstone that is mined and cut in different parts of the world. It can be found in Russia, Pakistan, Burma, and other parts of Asia as well as Columbia, Brazil, and the United States.
Topaz is a gemstone that occurs in many colors and varieties. Topaz crystal is typically colorless in pure form, but impurities give it different colors; the yellow, green, pink, violet and blue topazes are usually associated with fluorine.
Topaz crystal's color is permanent and does not fade even after decades of exposure to sunlight.
Topaz' inherent hardness is 8 on the Mohs scale of hardness.  
The largest Topaz gem was named La Pelegrina and was presented to Queen Isabella I of Spain as a gift by Columbus on his second trip to America.
The world's largest cut topaz is 101.73 carats (23.28 g).
The topaz gemstone can help you reach your goals and boost your drive.
---
December's Birthstone Tanzanite  
---
The Tanzanite birthstone is a rare gem variety of the mineral zoisite.
The best Tanzanite stones are found in the Merelani Hills of Tanzania.
When mined, Tanzanite gems a usually a deep red color, but when heated it turns into a rich violet-blue.
Tanzanite varies in color from light yellow to deep violet.
Tanzanite stones that are violet-blue are the most treasured and valued.
Tanzanite crystals often mistaken for topaz
The Tanzanite births isn't mined all year round, it is therefore a seasonal gem.
Tanzanite crystals typically have a z-like shape.
Tanzanite's value has increased by 400% since 2012.
The World's largest rough Tanzanite gemstone is a 16,839 carat stone mined in Tanzania in 2005.
---
December's Birthstone Turquoise  
---
The Turquoise stone is a blue-to-green chalcedony and is a member of the Quartz family.
Turquoise stones can change color from light-blue to sky-blue to green and finally brown when heated.
Turquoise is the only gemstone to have an official gemstone named after it.
Turquoise is known as the sky stone by Tibetan and Nepalese people. It is found in various regions of the Himalayas as well as Mexico, Afghanistan, Iran, China, Tibet and Australia.
The wonderful color of turquoise gems is due to iron within it oxidizing upon exposure to air and moisture; particularly salt water.
Turquoise is a one of the oldest minerals on earth. It's only about 200 million years younger than diamond.
The turquoise gemstone is considered to be a protective stone and is also used for peace, balance, love, truth, healing, courage and friendship.
Turquoise is the national gem of Iran. So it is no wonder that Iranian turquoise is highly valued all over the world. Typically Iranian turquoise is found in mines near Sarcheshme, Iran. It can also be found in other places such as China, Afghanistan, because of its popularity. Popular turquoise cuts include cabochons (flattened with a dome-shaped top and one less flat side), ovals (flattened on two opposite sides) and rounds (flattened on all four sides) and set into jewelry like rings, bracelets and necklaces or used to make things like chess sets.
---
December's Birthstone Turquoise  
Zircon is brilliant. It flashes multiple colors of light called fire that are similar to a diamond's flash and sparkle.
Zircon crystals come in a variety of colors, including yellow, green, red and brown. It's therefore popular among collectors as well as informed customers.
Many people associate zircon gemstones with Australia. But zircon is actually found in many locations across the world, including the USA, Russia, Canada, Brazil and Italy. Zircons are also mined in India and Sri Lanka.
The color of zircon gemst can sometimes be changed by a process called heat treatment. Common brown zircon crystals, heated to 800-1000ºC, transform into white crystals.
It is sometimes looked upon as a cheap diamond simulant, but in actuality it is a valuable gem.
Zircon's hardness falls between six and seven-and-a-half on the Mohs scale of mineral hardness.
Blue zircon was a particular favorite in Victorian times, when fine gems were often featured in English estate jewelry dating from the 1880s.
The zircon crystals from Australia's Jack Hills are the oldest things ever discovered on Earth. Researchers have dated these crystals at about 4.375 billion years old, just 165 million years after the Earth formed. These zircons offer insight into what early conditions on Earth were like.